The year is winding down to an end, and I am seeing lists everywhere in bloggy land. Wish lists, gift lists, mailing lists, to-do lists and of course, shopping lists. The season of The List is upon us! So I decided to put together my own list: my top ten go-to crafty supplies for 2010. Thanks for looking!
1. ATG 714 Applicator and 3m Gold 1/4 inch tape: This is hands down the best adhesive I have used. It's also the cheapest! The initial cost can be a little daunting so I had to really weigh the pros and cons of this one before I laid down the cash. I have been using this for over a year now, and I love it-and the money it has saved me (i.e. allowed me to spend on other crafty goodness). I buy all of my refills at the Tape Depot. They have free shipping if you spend $50. The refills are so cheap, that I usually have a friend go in on the purchase with me, and we each get a case of 12 rolls. That STILL only comes to about 46 dollars, so I usually toss in a roll of their funky duct tape so I can get the free shipping. 36 yards of adhesive per roll. 108 feet of adhesive per roll. 1296 inches of adhesive per roll. 12 rolls to a case equals 15552 inches of adhesive for less than $23. The math speaks for itself! Michael's now offers the pink version of the ATG gun, and you can even use one of the 40% or 50% off coupons! Go get you o0ne today, if you haven't already.
2. Fiskars 12" Portable Rotary Trimmer: I have been scrapbooking for over five years now, and I have probably gone through ten or twelve trimmers looking for the perfect one for me. I fell in love with this trimmer from the first time I used it. It has great precision and is easy to use. I use it on a LOT of paper and chipboard. The blades last a long time and when it does come time to change the blade it is very easy to do. There is also a large variety of different style blades to use in this trimmer. I tend to do a lot of crafting away from home, so this trimmer is the perfect size for me, and meets all of my needs.
3. Tim Holtz 12" Design Ruler: Tim Holtz is a genius with tools! This is no ordinary craft ruler - Tim, as usual, kicks it up several notches! This clear, acrylic ruler will solve the need for any other - and I must agree with Tim - this tool will make your other rulers obsolete. This Design Ruler features:
tapered edge - perfect for drawing lines

metal edge - ideal for cutting paper with a craft knife

zero to twelve, marked in inches. No weird starting points - it starts where the acrylic starts!

centering ruler - locate the center of large or small pieces of paper quickly and easily.

grids on ruler allow perfect alignment - both vertically and horizontally!

saved the best for last: ruler features a row of 1/8" pierced holes completely through the ruler. This allows you to pierce holes neatly, evenly and quickly at whatever spacing interval your crafting needs demand! Holes are easy to spot and space visually, makes completing your paper piercing a snap. Tim's Design Ruler measures just over 1-1/2" in height and exactly 12" in length.
4. Honey Bee Scissors
Scrapbook.com says these are the perfect scissors for cuts that are tricky, and crafts that are sticky. The Honey Bee craft scissors by Cutter Bee are great for cutting through even the stickiest of materials. These sticker scissors are non-stick and can fly around your crafts for an easy cut every time.
Comfort grip handles
Comes with a protective safety cover
Precision-ground tips can cut in the tiniest of areas
Cut stickers, adhesive foam, and other adhesives quickly
I have two pair just in case I am ever more than an arms reach from these.
5.Tonic Studios - Tim Holtz - Non-Stick Micro Serrated Scissors:
These are a recent purchase for me, and I have no idea how I survived without them for so long. I bought them for the specific job of cutting apart my growing collection of unmounted rubber stamps.
These Non-Stick Micro Serrated Scissors by Tim Holtz by Tonic Studios are perfect for scrapbooking and paper projects.
Resistant to rust and corrosion
Non-stick coating minimizes adhesive build up
Extra large Kushgrip Handles for comfort and less fatigue
Micro serrated edge great for detail cutting
Protective plastic cap for sharp pointed blade
Excellent cutting on all types of material including sheet rubber, vinyl and adhesive backed papers
6.Cricut Expression Machine: I LOVE my cricut. I don't even know where to begin. I use it on almost everything. You need one too! I use it for cutting shapes and titles for cards and layouts. I even use it with my gypsy for cutting the shapes for my own board books and mini albums.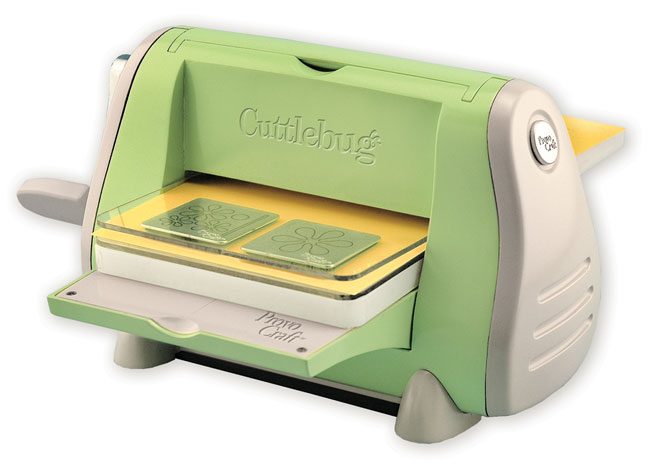 7.Cuttlebug: I love adding texture to all of my projects with my cuttlebug. It has SO many uses. I have been head over heels for the Tim Holtz embossing folders and his dies. The Cuttlebug is a very versatile machine, and it can be used with all brands of dies and embossing folders!
8. Stampin' Scrub & Mist
When I attended my first Stampin' Up! workshop I was impressed by the Stampin' Scrub and Stampin' Mist stamp cleaning products - but not enough to buy them. After all, I was just a scrapbooker at that point who occasionally used stamps on my pages. What I didn't realize then was I would probably use my stamps a bunch more if I'd had an easy way to clean them.
When I became a demonstrator and received the Stampin' Scrub & Stampin' Mist in my starter kit I realized what I had been missing! I like to tell people that it changed my life - and from a stamping standpoint it really did.
It couldn't be easier to clean your stamps using these products. The Stampin' Scrub is double-sided; on one side you spray your Stampin' Mist then rub your stamp on it and on the other side you dry your stamp. You are immediately ready to stamp again! Sure, you can use a baby wipe or paper towel to clean your stamps, but that takes longer. And the Stampin' Mist has a conditioner in it that is good for the rubber on your stamps, and it smells grea
t too!
9.Memento Dye Ink Pad in Tuxedo Black by Tseukineko: Perfect for use with your Copic markers! This is the ink recommended for use at the Copic Certification Class.
Fade-resistant dye ink captures even your most intricate images.
Stamped impressions once dried are water resistant and will not migrate.
Dries on all paper surfaces including coated and textured papers.
Perfect for finely detailed and solid images.
Water-based and acid free.
10. Copic Markers: COPIC markers are fast-drying, double-ended markers available in 322 colors. COPIC markers are reliable, permanent, non-toxic, and dry acid-free. The nibs are replaceable. Their outstanding performance and versatility have made COPIC markers the choice of professional designers worldwide. COPIC markers are ideal for all your calligraphy, airbrushing, and graphic arts needs. The broad nib offers smooth, consistent coverage for larger areas, while the fine nib allows for easy detail work.